Everything You Need to Know about Cricket in Nigeria
On this page, we are going to deviate from cricket betting sites for Indians and take a look at cricket in Nigeria. Cricket is not a huge sport in Nigeria, but it is one that is slowly growing in popularity. In fact, they even have a national cricket team and they have been an International Cricket Council associate member since 2002. In 2018, the ICC gave full T20I status to all members, meaning that any match that is now played between Nigeria and another ICC member will be considered a full T20I. Keep on reading to find out more about Nigerian cricket.
The History of Cricket in Nigeria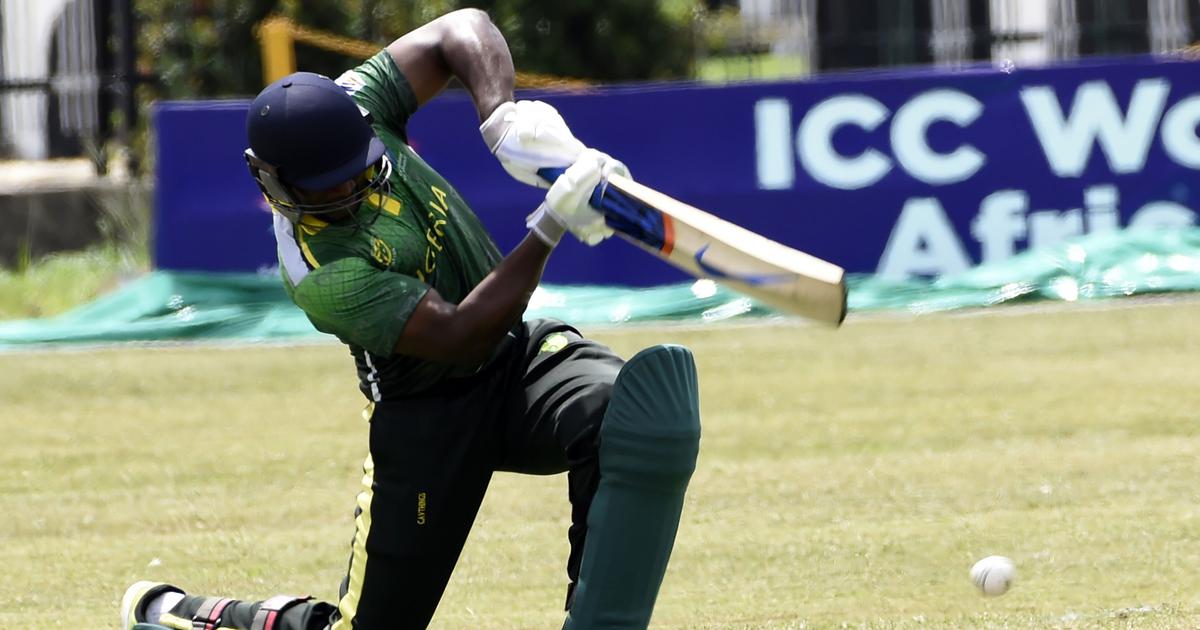 The British, as they did everywhere, introduced cricket to Nigeria in the late 19th century. The first cricket match in the country is believed to have been played on the 25th May 1904, between a team from Lagos and a team from Gold Coast, which is the country that we now know as Ghana. Gold Coast went on to win the match by 22 runs.
This became an annual game and the first three games were multi-racial. However, only Europeans were allowed to participate in the fourth fixture that took place at the end of 1906. The Africa population began its own yearly fixture in 1907. However, World War I broke out and cricket did not restart in Nigeria until 1925.
Between World War I and World War II, cricket became more organized in the country with cricket associations for Africans and Europeans being formed at the beginning of the 1930s. Cricket was once again side-lined during World War II, with it returning in 1947. The first game that was played was a 5-day match that ended in a stalemate. Many Europeans started to leave the country and cricket went back to multi-racial teams in 1956.
The independence of Nigeria in 1960 saw an increase in the popularity of cricket. Matches against Gambia and Sierra Leone were held annually and were evenly matched until the late 1970s. However, football soon surpassed cricket in terms of popularity and issues within the Nigeria Cricket Association led to a decline in standards.
There was once a West Africa cricket team, consisting mostly of Nigerian players, that participated in ICC Trophy competitions. However, the team disbanded in 2002, the same year that Nigeria was invited to become an associate member of the ICC.
In recent years, the popularity of sports betting has grown in Nigeria, leading to an increase in the number of the best betting sites in Nigeria. These sites offer various sports betting options, including cricket, for fans to place their bets on.
ICC Membership
Nigeria's first tournament as an ICC member was the 2002 Africa Cup that was held in Zambia. They came 4th in their group, with their only win coming against Malawi. In 2006, they participated in the World Cricket League Africa Region but finished at the bottom of the table, which meant they were relegated to Division 3. Their first tournament wins came in 2007 and 2008 when they were victorious in the North West Africa Championship. In 2018, they were invited to join the Africa T20 Cup, but they finished bottom of their group, failing to win any of their matches.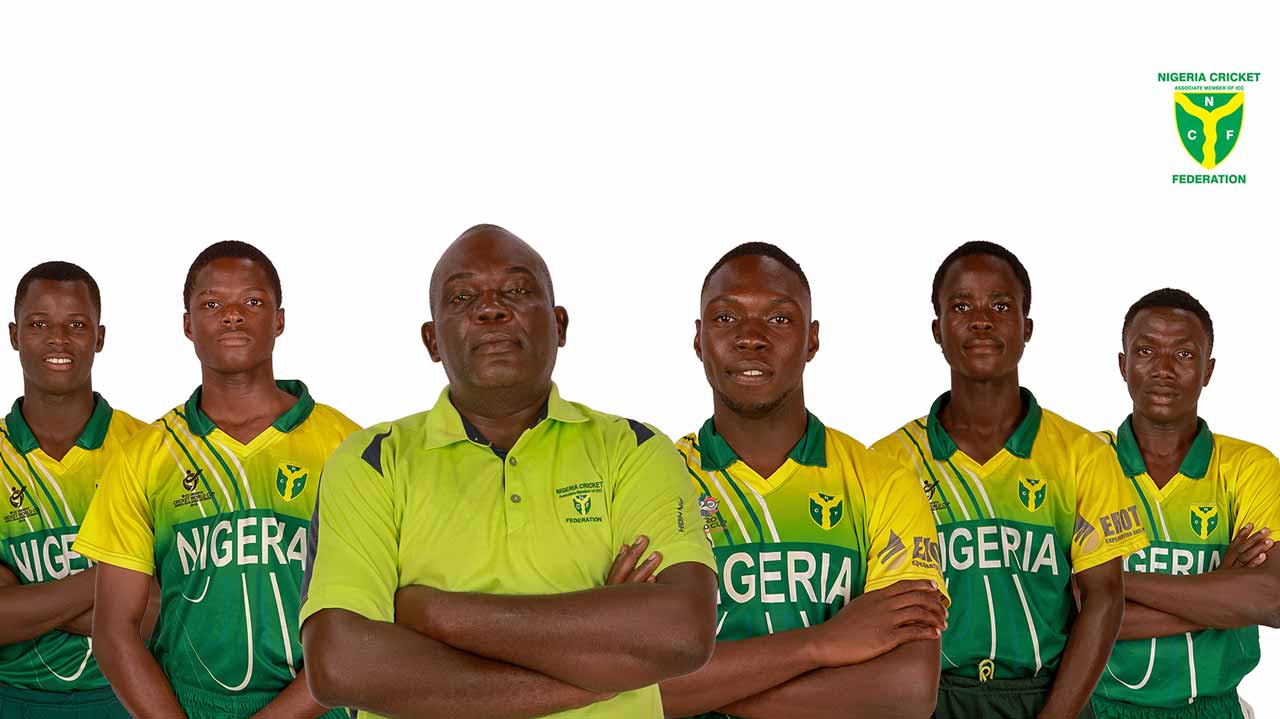 Cricket Grounds
There are a number of small cricket grounds scattered around Nigeria, but there is the only one that has hosted international matches and that is the Tafawa Balewa Square Oval Stadium in Lagos. This is the biggest cricket stadium in the country, but it still only has a capacity of 2,000, which goes to show just how important cricket is considered to be to the majority inside Nigeria.
One of the reasons why cricket does not have as big a following as other sports such as football is due to the fact that it is expensive to kit yourself out with all of the necessary equipment. In order to play cricket, you need a helmet, bat, gloves, pads, and other protective gear. If you want to play football, all you need is a ball and something that can act as a goalpost.
Nigeria's Tournament History
Below you will be able to find a complete overview of Nigeria's cricket tournament history.
World Cup:
1975: Not eligible as not a member of the ICC
1979 to 2003: Nigerians played in the West African cricket team
2007: Failed to qualify
ICC World T20 Qualifier:
ICC Trophy:
1979 to 2001: Participated as West Africa cricket team
2005: Failed to qualify
ICC World Cricket League
2009: Division 7 - 3rd place
2011: Division 7 - 2nd place
2011: Division 6 - 5th place
2013: Division 7 - 1st place
2013: Division 6 - 2nd place
2014: Division 5 - 4th place
ICC World Cricket League Africa Region
2006: Division 2 - 5th place
2011: Division 2 - 1st place
T20I Statistics and Records
Since they became associate members of the ICC, the Nigerian cricket team has played nine T20I matches. Unfortunately, they have not done as well as they would have liked. They have only beaten Botswana and Ghana, while they lost to Ireland, Canada, Hong Kong, Jersey, Kenya, Oman, and the United Arab Emirates.
The highest score that they have managed is 135/8, which they scored against Ghana on the 22nd of May 2019. The match was played at the Kyambogo Cricket Oval, which is in Kampala, Uganda.
The highest individual score by a Nigerian batsman in a T20I match is 51*, which was achieved by Sesan Adedeji against the UAE on the 24th of October 2019. This match was played at the Tolerance Oval, which is in Abu Dhabi.
The best bowling figures by a Nigerian bowler in a T20I match is 4/18, which was achieved by Vincent Adewoye in the match against Ghana that we have just mentioned above.
The leading run scorer for Nigeria in T20I matches is Chimezi Onwuzulike. He has scored 122 runs at an average of 15.25, which is nothing to write home about if we are being perfectly honest. When it comes to overall leading wicket takers, there are four Nigerians that are on 6 wickets each and these are Sylvester Okpe, Vincent Adewoye, Chima Akachukwu, and Isaac Okpe. However, Sylvester Okpe sits at the top of the table due to the fact that his bowling average is 15.66.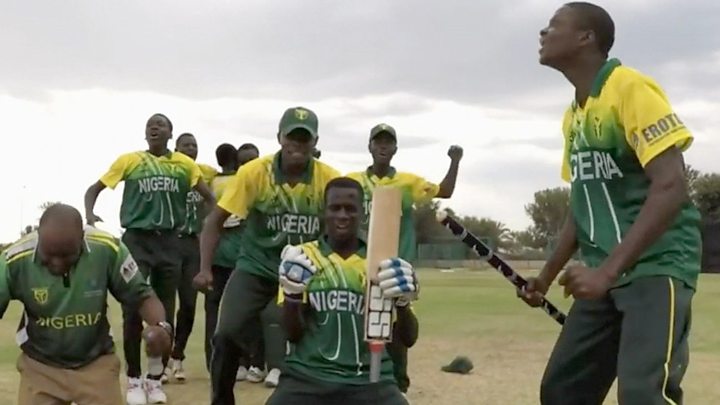 Youngsters Make History
Nigeria competed at their first ever ICC Cricket World Cup at the beginning of 2020. They qualified for the ICC U-19 Cricket World Cup towards the end of 2019 thanks to a win against Sierra Leone in their final game. They had a lot of pressure on them as nothing, but a win would do. During that match, Peter Aho, who is a bowler, made his way to the middle with still 52 runs needed in order for his side to qualify. A little while later, he struck the winning running, which caused an outpouring of emotion from his teammates.
They had a tricky group at the World Cup as it was made up of England, West Indies, and Australia. Their first game was against Australia and they were bowled out for 61 with just under 20 overs remaining. Australia chased this down without a losing a wicket and with fewer than 8 overs bowled. Their next game was against the West Indies and they went on to lose by a massive 246 runs as they were bowled out for a mere 57 runs. In their final game against England, they were bowled out for 58 runs and England chased this down with 8 wickets remaining.
Although they did not get the results that they wanted, they are hopeful that they managed to convince a few more Nigerians to take up the sport. At the end of the tournament, Sylvester Okpe, who is the captain for his national team, declared that although they did not perform as well as they had hoped if their journey to the World Cup convinced a handful of young Nigerians to pick up a cricket bat or a cricket ball, then he would consider it to be a successful journey. He was hopeful that they would be able to qualify for another major tournament again and hopefully encourage more Nigerians to start playing this wonderful game.
Sources: wikipedia ; www.sport-betting.ng ;nigeriacricket.com.ng ;
Find out more about cricket: